Elder
Dempster
Lines

railways
Merchant Navy Class
The Southern Railway introduced the 4-6-2 Merchant Navy class steam locomotives in 1941. In all 30 were built, the final examples being delivered after the nationalisation of the railways. The class was rebuilt by British Railways in the 1950s, and finally withdrawn from service in the 1960s.
35030 - Elder Dempster Lines
this image is based on an original work © by Rick Kent of 35028 Clan Line
and is reproduced by kind permission of the artist
The last Merchant Navy class locomotive to be built was 35030 Elder Dempster Lines, which came into service in April 1949 and was withdrawn in July 1967 after 850,876 miles. In 1958 the locomotive was rebuilt, losing the streamlining (known as the air-smoothed casing) in the process. 35030 hauled the last steam service on Southern Region (the 1615 Weymouth to Waterloo express on 9 July 1967) and one of the engine's name plates is preserved in the Merseyside Maritime Museum, Liverpool.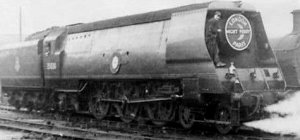 35030 Elder Dempster Lines
naming ceremony (with EDL presence), as originally built, as rebuilt, in service, and at the breakers
images © unknown
Of the 30 Merchant Navy class built a number are preserved, including 35005 Canadian Pacific with the Mid Hants Railway (the Watercress Line) and 35028 Clan Line in the care of the Merchant Navy Locomotive Preservation Society.
In September 2006 the Great Central Railway held a 40th Anniversary of Closure weekend, marking the closure of the mainline from London (Marylebone) to Nottingham and Manchester. 35005 Canadian Pacific travelled to the GCR for the event, and was temporarily renamed 35030 Elder Dempster Lines (complete with specially made name plates) as 35030 had taken part in the actual closure weekend in 1966.


photographs of 35005/35030 on the GCR September 2006
courtesy and © Matt Allen
Elsewhere, 35030 can also be found on model railways, Hornby having produced a model of the locomotive.


35030
image © and courtesy Rails of Sheffield
English Electric Type 4 / British Rail Class 40
A number of these diesel-electric locomotives were named after liners. Most were Cunard ships, but others included Canadian Pacific ships and three were named after Elder Dempster mailboats.

40012 - Aureol
photograph © Class 40 Preservation Society
40012 originally numbered D212, Aureol was the third production EE Type 4. It entered service in May 1959 and was withdrawn in April 1986. Acquired by the Class 40 Appeal in 1988, 40012 is now at the Midland Railway Centre.
40034 originally numbered D234, Accra entered service in September 1959 and was withdrawn in January 1984.

40035 - Apapa
photographs © courtesy John Powell Collection
40035 originally numbered D235, Apapa entered service in October 1959 and was withdrawn in August 1984.

images © unknown
all text © Mike Ingham and all images © as indicated
the 35030 and nameplate images are all believed to be in the public domain
please see the small print section for the image policy
Elder Dempster Lines House Flag © Elder Dempster Lines
Elder Dempster Lines page
this page last updated 21 February 2016
© HFM Design